SKWgear 9-13 standard Harris bipod
Ultra-light Harris Bipods are lightning quick and quality manufactured with heat treated steel and hard alloys.
The bipods are quick-detachable and clamp to the sling swivel stud of bolt action rifles with a conventional stock design. Carrying your rifle with a sling or shooting off-hand is not impeded by the use of a Harris Bipod. Hinged bases have tension adjustment to eliminate tremor or looseness in the crotch area of the bipod.
These bipods have an all-weather black anodized finish and attach to the sling swivel stud. A sling swivel can be mounted to the bipod's swivel stud clamp.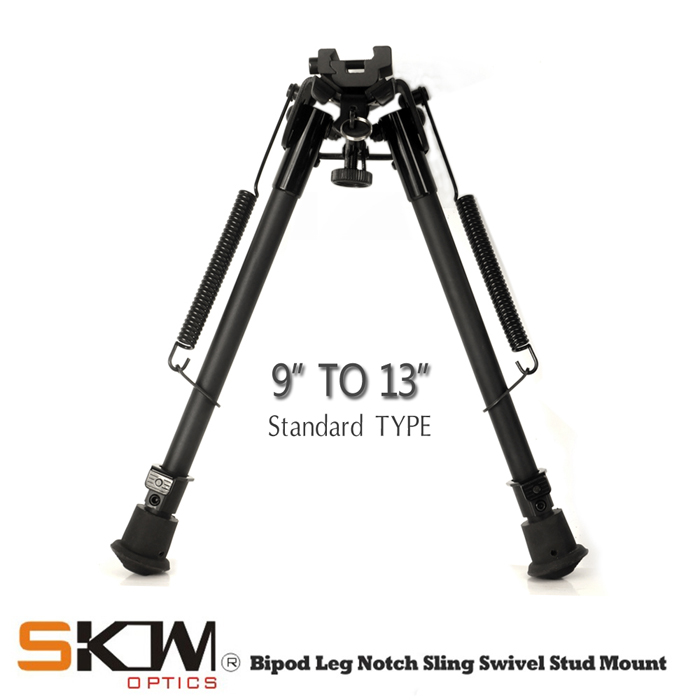 Suitable for shooting from a bench
Attaches to common sling swivel
Picatinny rail
100% T6061-T6 Aluminum Alloy with some Steel Parts
This bipods belongs to the standard model. Compared with the multi-function model, the standard model lacks the "rotation" function (and is the only one):
After the combination with the bipod and the gun body, the gun body can not rotate around the axis because the wood stock and the bipod are rigidly connected.
In other respects, the functions of the two models are the same.
If the shooter's shooting environment is better, such as the fairly flat field, you can consider choosing this standard model.
Or the Sagittarius has certain requirements for the weight of the bipod, you can also choose this one.
The following figure explains the characteristics of the standard bipod. As shown in the figure, there is a "mount" on the top of the bipod. It can only be combined with the gun body. It can not move. It can not make the gun body rotate around the axis.
If the shooting ground is flat, there is no problem with this bipod.
If the shooting ground is uneven and inclined, then it may not be suitable for people with high requirements.